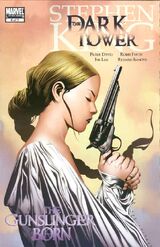 Cuthbert Allgood is riding along the Sea Coast Road when he runs into Sheemie who is delivering a letter from Rhea to Cordelia Delgado. Cuthbert takes it from him as Sheemie is scared of losing it. Cuthbert reads the letter, leading him to race back to Roland.

At The Traveller's Rest, George Latigo appears to talk to Eldred Jonas, telling him he awaits the last of the tankers to transport to the refinery as well as Maerlyn's Grapefruit. He also orders the three gunslingers to be killed and so Eldred devises the plan to frame them for the murder of the mayor, Hart Thorin. His sister, Coral, sees no problem with this.

Cuthbert returns to the Bar K and confronts Roland with Rhea's note. The note was planned to reveal Susan's lost virginity to her aunt. Roland finally realizes his foolishness, and they assume the witch knew of his and the girl's activities via Maerlyn's Grapefruit.

Hours later, the three gunslingers along with Susan and Sheemie meet in Hambry Cemetery. Roland describes his plans to fight against Eldred and his allies, destroying the remaining tankers at Citgo and then heading to Hanging Rock to strike at their enemies. He hopes to lead them into Eyebolt Canyon and then force them into the thinny.

Roy Depape kills the mayor, placing The Lookout on his corpse and drawing Farson's sigul on the wall, framing the three gunslingers.

Susan is woken the next day by her servant Maria and told the gunslingers have murdered the mayor and have been imprisoned. She dresses and goes to the Bar K to retrieve Roland's guns. Disguising herself she enters the prison, there is a scuffle and she ends up killing Herkimer Avery and Dave Hollis. Susan feels guilty for what she did, but the gunslingers thank her for her help.

Roland, Cuthbert and Alain leave her on their way to Citgo and their mission to destroy the oil there. The explosions cause Eldred Jonas to awaken and he goes to retrieve Maerlyn's Grapefruit from Rhea, learning from the witch that Susan is now on her own and decides to pay her a visit.
Community content is available under
CC-BY-SA
unless otherwise noted.