Hax was the cook in Gilead born in the South Islands. He was described as being "a quarter black, a quarter yellow, a quarter from the South Islands,...and a quarter gods-knew-what" and was a man of considerable girth, wearing a gold ring in one ear. He was a kind-spirited man who loved children and would feed apprentice gunslingers who were being punished and so it was a shock to the entire city when they discovered his traitorous support for John Farson.

He loved history and informed the children about the history of the Old Ones, the Beam Guardians as well as the doorways at the end of the Beams. Additionally he taught them the rhymes for the beam guardians such as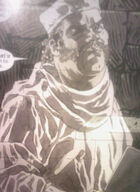 Maturin's.

Roland and Cuthbert discovered a plot, involving Hax and a guard named Robeson to poison the meat going to the town of Taunton. They turned Hax in and he was sentenced to hang, and when he stood at the gallows with the rope around his neck he refused to repent the Good Man's cause.. Roland and Cuthbert both attended his hanging, his executioner was the gunslinger Charles Champignon. Hax was hanged for treason and capital murder (though the people in Taunton were not poisoned thanks to Roland and Cuthbert).
Later, when Roland returned to Gilead (during The Journey Begins) after The Battle of Jericho Hill, Hax' ghost tried to haunt Roland, but Roland dismissed it, not threatened and unharmed.
In the illustrations for The Gunslinger, Hax' hanging is shown; here he wears a blindfold. In the The Journey Begins, his face is covered with a cloth sack, and he appears to be larger in size and not balding as The Gunslinger depicts.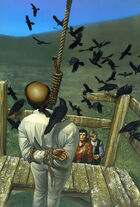 Community content is available under
CC-BY-SA
unless otherwise noted.