"It's trouble and it's in our road."
   — Roland Deschain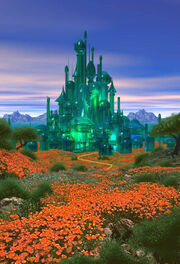 The Emerald City is located along the I-70 thinny in Topeka, a place Roland and his ka-tet are transported to after the incident with Blaine the Mono. The gate into the city is made up of twelve colored bars and one black bar representing the thirteen pieces of Maerlyn's Rainbow. The tet can only open the gate by clicking the heels of the Ruby Shoes left for them in the road. It is here they encounter Andrew Quick, posing as Oz, and Randall Flagg, who departs as Roland tries to kill him with Jake's Ruger leaving Maerlyn's Grapefruit in his place. In Wolves of the Calla, it is revealed that a green palace appeared and disappeared near the western branch of the River Whye.
Community content is available under
CC-BY-SA
unless otherwise noted.