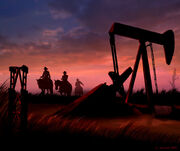 Citgo is a place on the outskirts of Hambry. It sits atop an oil reserve and pumps the crude oil to the surface. Many of the derricks have broken over the years and only nineteen now work.
Citgo was part of John Farson's plan to destroy the Affiliation. He wanted the oil to fuel his war machines. His plot was ruined by Roland Deschain and his first ka-tet when they destroyed the tankers he meant to transport the oil with.
Citgo is a petroleum company in the United States. Stephen King used the name to show how Roland's world and ours overlap and how his world has "moved on" over the years.
Community content is available under
CC-BY-SA
unless otherwise noted.