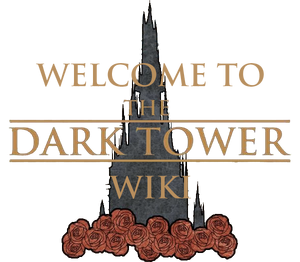 A wiki dedicated to the magnum opus of Stephen King that anyone can edit.
We are currently editing over 962 articles.
Caution:
Some material may be inappropriate for younger readers
Warning: Spoilers Ahead!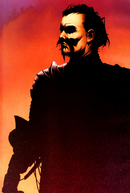 Arthur Eld
was the ancient King of All-World and the greatest of mythical heroes in
Mid-World
, equivalent to King Arthur in the legends of our own Earth. He was a warrior of the
White
and a guardian of the
Dark Tower
.
Over a thousand years after the demise of the Great Old Ones Arthur is purported to have carried his sword Excalibur out of a Kashamin Pyramid where he had been entombed, a legend which is depicted in many paintings throughout Mid-World. Some people even believe he pre-dated the Old Ones and ruled as the first king after the Prim receded.
Arthur emerged as a young warrior with incredible prowess for battle and an ability to inspire greatness in people. Warring clans forged alliances, Baronies began to group together to form the first parts of the Affiliation and the technology of the Old Ones began to see use again. Arthur led the new Affiliation to fight against the harriers and mutants that plagued their lands, defeating the agents of chaos led by Maerlyn and triumphantly restoring order again to the earth. People often say that Nis inspired him to unite the world together. (Read More...)

A spoiler-free parental quide to mature content can be found here:
Parental Guide

"We are going to go, Eddie. We are going to fight. We are going to be hurt. And in the end we will stand."
   — 
Roland Deschain

Loading RSS data...

Loading RSS data...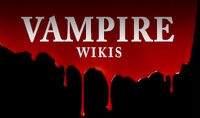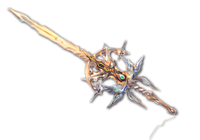 Fantasy Literature
Go to these sites for info or for help with your own wiki!
A Court of Thorns and Roses • A Song of Ice and Fire • All Souls Trilogy • Beyonders • The Black Company • The Brotherband Chronicles - Ranger's Apprentice - Royal Ranger • The Dark Tower • Deltora Quest • Discworld • The Dragonriders of Pern • The Dresden Files • Fablehaven • The First Law • Grishaverse • His Dark Materials • Inheritance Cycle • The Kingkiller Chronicle • The Land of Stories • The Magicians • Malazan Book of the Fallen • Mistborn • Shades of Magic • Shannara • The Spiderwick Chronicles • The Stormlight Archive • Sword of Truth • Throne of Glass • Wheel of Time • The Wicked Years
Want your community included? See how!