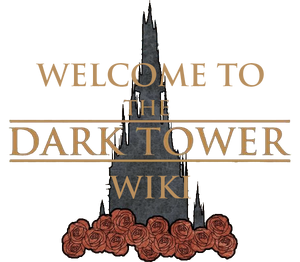 A wiki dedicated to the magnum opus of Stephen King that anyone can edit.
We are currently editing over 981 articles.
Caution:
Some material may be inappropriate for younger readers
Warning: Spoilers Ahead!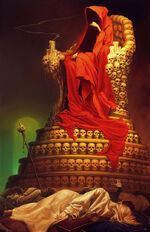 The
Crimson King
is the main antagonist of
The Dark Tower Series
. He is the orchestrator of the chaos and decay in the Keystone World and much of that in all the other worlds connected by the
Dark Tower
. His ultimate goal is to tear down the Tower, bring about Discordia, and re-make the world in his image.
Eddie Dean sees the Crimson King as being equivalent to "Satan" in the religions of his own world. However, this is a simplification of the true origin of "Le Roi Russe".
As the Deschain bloodline (that of gunslingers Steven and Roland) and the bloodlines of Roland's first ka-mates such as Cuthbert Allgood are descended from the ancient King of All-World, Arthur Eld, so is that of the Crimson King. (Read More...)

A spoiler-free parental quide to mature content can be found here:
Parental Guide

"A person's never too old for stories. Man and boy, girl and woman, never too old. We live for them."
   — 
Roland Deschain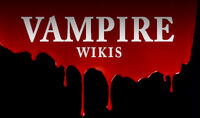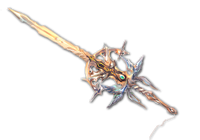 Fantasy Literature
Go to these sites for info or for help with your own wiki!
A Court of Thorns and Roses • A Song of Ice and Fire • All Souls Trilogy • Beyonders • The Black Company • The Brotherband Chronicles - Ranger's Apprentice - Royal Ranger • The Dark Tower • Deltora Quest • Discworld • The Dragonriders of Pern • The Dresden Files • Fablehaven • The First Law • Grishaverse • His Dark Materials • Inheritance Cycle • The Kingkiller Chronicle • The Land of Stories • The Magicians • Malazan Book of the Fallen • Mistborn • Shades of Magic • Shannara • The Spiderwick Chronicles • The Stormlight Archive • Sword of Truth • Throne of Glass • Wheel of Time • The Wicked Years
Want your community included? See how!