Brown is a corn farmer, first seen in The Gunslinger, to whom Roland tells the story of Tull. In the comic The Journey Begins, Roland also tells Brown of another story about before reaching the desert. He is a dweller with wild strawberry hair. He has a raven named Zoltan. He lives on the edge of the Mohaine Desert.
He is visited by a salesman, named Pappa Doc, occasionally who sells him beans. Brown has a well on his land.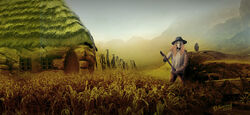 Roland was given corns and water from Brown as he was passing by. He also paid for some beans. Brown kept Roland's dead mule (which died while the gunslinger was sleeping) and, when Roland was leaving, Brown promised to bury it. When Roland takes a last look back at Brown's house, he was working hard with his shovel, digging a hole.  
He also appears in Wizard and Glass as a farmer in Hambry, and helps with the death of Susan Delgado. [citation needed]